Instagram | YouTube | Facebook |Twitter | rBux
St.Patrick's Day is fast approaching and many influencers and companies are coming up with strategies to tap into the St. Patrick's day hype to increase their social media presence. Every year on March 17th people all over celebrate St. Patrick's Day, however, influencers and brands see this day as an opportunity to sell products to their followers and consumers. Many brands have partnered with influencers and have been successful in reaching many consumers on this day of celebration. The most popular products bring beer and well anything green.

Why St. Patrick's Day?
St. Patricks Day provides the optimal marketing opportunity for businesses and influencers. Leading up to the big day many companies create special and limited products to sell for St. Patrick's Day. The colour green, the four-leaf clover, the leprechaun and the pot of gold, all of these things are targeted and consumers love it. It is easy to target specific things on St. Patrick's Day since consumers and businesses have attached a certain representation to the day. On this day of festivities anything green goes, things that accompany drinking and accessories are key, making it easy for influencers and companies to sell products. Influencers have the opportunity to talk about green beer or green donuts and consumers have the opportunity to try these unique products making it a successful day for buying and selling.
The Role of Social Media
Social media plays a major role in the success of St. Patrick's Day marketing. Influencers and brands post to their social media accounts and spark conversations around products they want to sell. Influencers are the key to success when wanting consumers to try certain products. Consumers will watch influencer videos or vlogs or read about in on a blog and will go out and try the products. The foodie community, beauty community and lifestyle community all have designated products, celebrations and meaning of the day which makes it easy to sell products to their followers.
1. The Green Donuts
Krispy Kreme is a great example of how companies tap into the St. Patrick's Day hype. With their green donuts, they are able to reach influencers and consumers spread the word about their product and brand like the video above.
Kind of makes you want to go buy some green donuts…mmmm
2. The St. Patrick's Day Everything Video
YouTubers like Collins Key and Devon showcase products in their videos that pertain to the special day. This gives free advertisement to many brands, giving the influencer lots of opportunities for partnerships on St. Patricks Day.
 3. The Pot of Gold Putty
Product reviews are extremely popular on social media, especially on YouTube. When special holidays or events take place product reviews skyrocket as companies release special themed products that gets people excited. In the video above many St. Patrick's Day themed products are reviewed, enticing viewers to want to buy the highlighted items.
4. The Shamrock Shake
Big brands like McDonald's know how to get their customers excited about themed products through marketing and creative ideas. Influencers use these products as content for their videos, posts, and Tweets creating word of mouth marketing for the company and success for the influencer.  The Shamrock Shake is an extremely popular St. Patrick's Day drink and shows the success of big brands tapping into the day of celebration.
Influencer Tips
Start promoting St. Patrick's Day products after Valentine's day to maximize your impact
Create your own occasion hashtag and use the mainstream hashtags in your posts
Create a St. Patrick's Day board on Pinterest
Post throughout the day on Instagram and Snapchat
Do a Green giveaway
Popular St. Patrick's Day Hashtags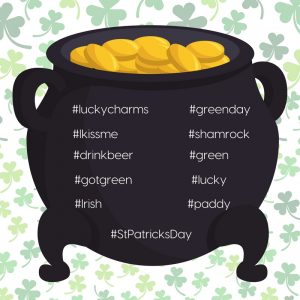 ---

Popular Hashtags
#StPatricksDay         #greenday
#shamrock                #gotgreen
#green                       #luckycharms
#kissme                    #lucky
#paddy                     #drinkbeer
We want to see what St. Patrick's Day themed products you're using! Tweet a picture of your favourite product with the hashtags #StPattyrBux and we will follow you back on Twitter.
rBux | Community for Sharing Products Using Social Commerce
If you want to learn more about being an influencer and receive tips and tricks you can follow us on our rBlog and subscribe to our Newsletter
Twitter | Instagram | YouTube  | Facebook
By: Lyndsie Pacheco
Please follow and like us: